Jim Rogers is an author, word traveler and successful international investor. He has been frequently featured in Time, The Washington Post, The New York Times, The Wall Street Journal, The Financial Times, and most publications dealing with the economy or finance. After attending Yale and Oxford University, Rogers co-founded the Quantum Fund, a global-investment partnership. During the next 10 years, the portfolio gained 4200%, while the S&P rose less than 50%. Rogers then decided to retire - at age 37.
In 1990-1992, Rogers fulfilled his lifelong dream: motorcycling 100,000 miles across six continents, a feat that landed him in the Guinness Book of World Records. As a private investor, he constantly analyzed the countries through which he traveled for investment ideas. He chronicled his journey in his bestseller book: Investment Biker. In 1999 - 2002 Jim also embarked on a Millennium Adventure. He traveled for 1101 days on his round-the-world, Guinness World Record journey. Passing through 116 countries which he recounted in his bestseller book Adventure Capitalist. His most recent book, Hot Commodities was published in 2004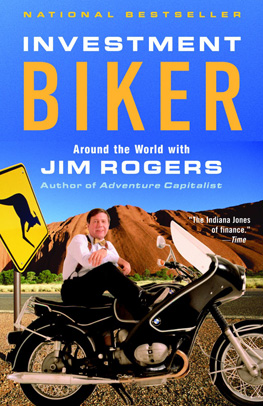 Yaron Bazaz: Hi Jim, 5 years had passed since you and your wife Paige had completed the "Millennium Adventure'" and set a new Guinness record for the longest continues car journey around the world. At 2007, do you feel a new urge to hit the road?
Jim Rogers: "We are moving to Singapore so that plus our 4 year-old daughter is enough adventure for the moment."
Y.B: As it reflects in your bestsellers books Investment Biker and Adventure Capitalist,
that cover the motorcycle round the world trip and the 'Millennium Adventures' story (respectively), it's seems that you had a bigger mission then setting new Guinness records. You actually tried to understand the global economy and you took that mission to the extreme: you literally crossed almost each country on the planet during your journeys, analyzed the economical situation in each visited country, conducted forecasts, and looked for investment opportunities. Is it an experience that any real investor should have in some degree? Read more »»